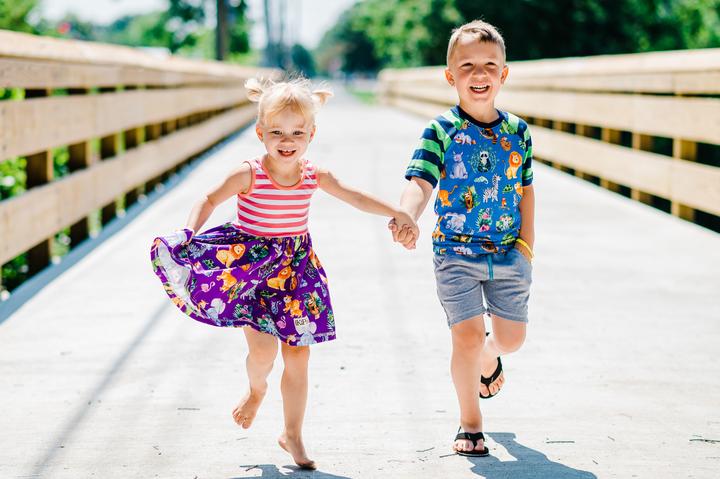 The KPea Story
Embrace personality with KPea 
From our beginnings, we've been dedicated to serving your children with creativity and playfulness... 
...starting with our founder Kathy Pietrowski, born in wild and beautiful British Columbia. 
Kathy is an adventurer following in her family's footsteps. By their creative endeavors and many accomplishments, her parents instilled in her an entrepreneurial spirit. 
She believes that, with a little creativity, every dream is achievable. 
Kathy became a young woman with this conviction. Because of her height, she was struck by the lack of clothing available to her. Seeing an opportunity, Kathy enlisted her friend Agnes to painstakingly teach her how to sew. 
As they dug in, she found she despised sewing and wanted to quit. She would spend hours fussing with prescribed patterns, pinning seams, adjusting the fit and so on. After hours of work and frustration she would find the final result was a total flop. 
But her pain turned to passion when she discovered she could make her own patterns and sew in her own unique style! 
She believes that persistence leads to radiance.
She met and married Jon, the man of her dreams, in Bible college. This was an answer to prayer as she was forced to accept an atypical lifestyle while battling Lyme disease. 
After moving to the states, applying for her green card, and having 3 daughters, Kathy remembered her dream of creating whimsical clothing. Her goal was to make both cute and comfortable dresses that could be worn to both church and the playground. 
Using second hand fabric, old T-shirts, and storing supplies in the attic or behind the couch, she relentlessly pursued her vision. With the support of her family and friends, and a lot of hustle, in 2011 this vision became reality. 
Her beliefs birthed KPea Original. 
From a rocky start, KPea took off like wildfire across the globe. Kathy, now a proud U.S. citizen with a family of 6 (their boy, Griffin, is 4), and Jon lead and empower women in our mission to provide distinct and durable clothes to kids around the world. 
KPea believes in blessing your children with clothes that are both beautiful and strong, just like them. 
Through our passion, your children can embrace their uniqueness, as delightful and playful as our clothing. 
Celebrate Your Originality with KPea.
Written By: Annie Landacre & Emily Morehouse